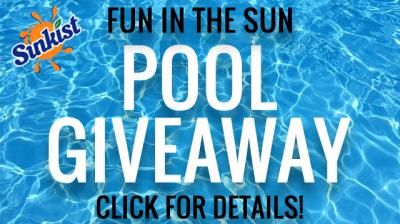 Get Ready for those Hot Summer Days!
The 2018 Sunkist "Fun in the Sun" Pool Giveaway is here!
20 qualifiers will be drawn from registrations collected at sponsor locations.
Those that are chosen have a chance to win a 24 ft. above ground pool from Bama Pools!!
Beginning April 16th – May 14th you can register to be a qualifier at one of the participating sponsor locations listed below:
In-Store registration locations:
Bama Pools- Cloverdale Road Petersville
Blue Water Equipment- Hwy.72 in Killen
P&K Western Stores-Zip City and Florence Blvd.
The YMCA-Helton Drive Florence
Shoals Discount Mattresses- Avalon Avenue Muscle Shoals
The winner will be determined by a reverse drawing at a location to be announced.