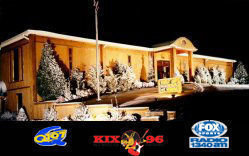 It Starts Here
Few companies can claim pioneers as their founders. We at Big River Broadcasting certainly can. Big River Broadcasting was started by Florence, Alabama native Sam Phillips and continues to be operated by his family. Sam always loved music….and radio.
At a young age Sam was exposed to the cultural richness of tenant farmers, preachers, and front-porch musicians. Sam moved his family to Memphis, Tennessee, where he eventually started a small recording studio. The "Memphis Recording Service" would, in just a few years, impact the world as the birthplace of a new musical era.
Elvis Enters The Building
Elvis Presley began his legendary rise to fame with Sam Phillips' guidance. Along the way Sam would also record and shape the careers of Johnny Cash, Carl Perkins, Jerry Lee Lewis, and countless others on his Sun Records label.
The Tradition Continues….
Big River Broadcasting continues this tradition of excellence with three top-ranked radio stations…..WQLT (Q107), WXFL (KIX96), & WSBM (FOXAM1340). This tradition means that we put our listeners first. We have a great investment in backup equipment including generators and transmitters. Our goal is to stay on the air at all costs, especially during severe weather. This is not just a marketing statement. We truly take this responsibilty seriously.
The Music Continues…..
Big River Broadcasting wants to be your choice for entertainment and information. Tune to us for your favorite "Hits of the 60's, 70's, 80's, 90's, and The Best of Today" on Q107, "Todays Best Country and The Legends" on KIX96, and "Fox Sports" on FOXAM1340. Feel free to send in your public announcements to any or all of our stations.
The Digital Side
Big River Broadcasting wants to be a part of your life everywhere you go. That's why we work hard every single day to put out the best products we possibly can. Our stations are streaming live online through our tradiditonal websites, mobile websites, & our mobile apps! Learn more about the digital side of our business by clicking here!