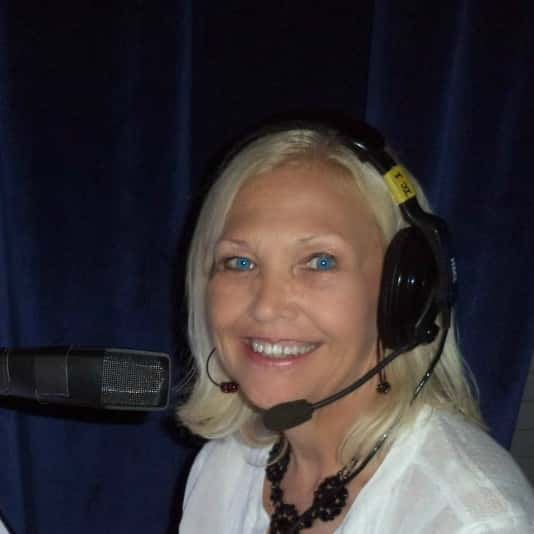 Sherry St. John anchors middays on KIX96 and also hosts the popular Sunday Night Country Classics.  She's a 40 year radio veteran, having started her career on Big River Broadcasting's Q-107 before moving on to Memphis, Tennessee and Houston, Texas. Sherry moved back home to the Shoals in the 80s.
In 2016 Sherry was inducted into the Alabama Broadcasters Association Hall of Fame. She is also a 2016 ACM nominee for Small Market On-air Personality of the Year.
Sherry is very involved with our community, giving her support to our area animal shelters. She launched an annual fundraiser, "The Doggie Iditirod," racing dogs in shopping carts to raise funds for the shelters. Sherry is also involved with The Alabama Music Hall of Fame, donating her voice and time to the Hall's many events through each year. She also promotes water safety in our beautiful part of the state in conjunction with the Alabama Marine Police.
Speaking of our incredible lakes and rivers, down-time for Sherry is spent boating.  You can find her and her husband, Roger Clark most weekends on Wilson Lake and Shoals Creek.
In Sherry's forty plus years in broadcasting, she says her career highlights include working for and sharing a friendship with the legendary Sam Phillips, broadcasting from the WHBQ studios in Memphis, Tennessee where Dewey Phillips first played Elvis Presley, working in the third largest radio market in the country, KULF in Houston, Texas, working with the legendary Dick Cavett in New York on a coast-to-coast New year's Eve radio special in 1980, receiving her induction into the Alabama Broadcasters Association Hall of Fame and her ACM nomination.
Sherry and Roger live in Florence, Alabama. Their household is rounded out with foreign exchange student sponsored daughter, Vicky Zhang, and of course, Ruty (short for Rutabaga) the cat.